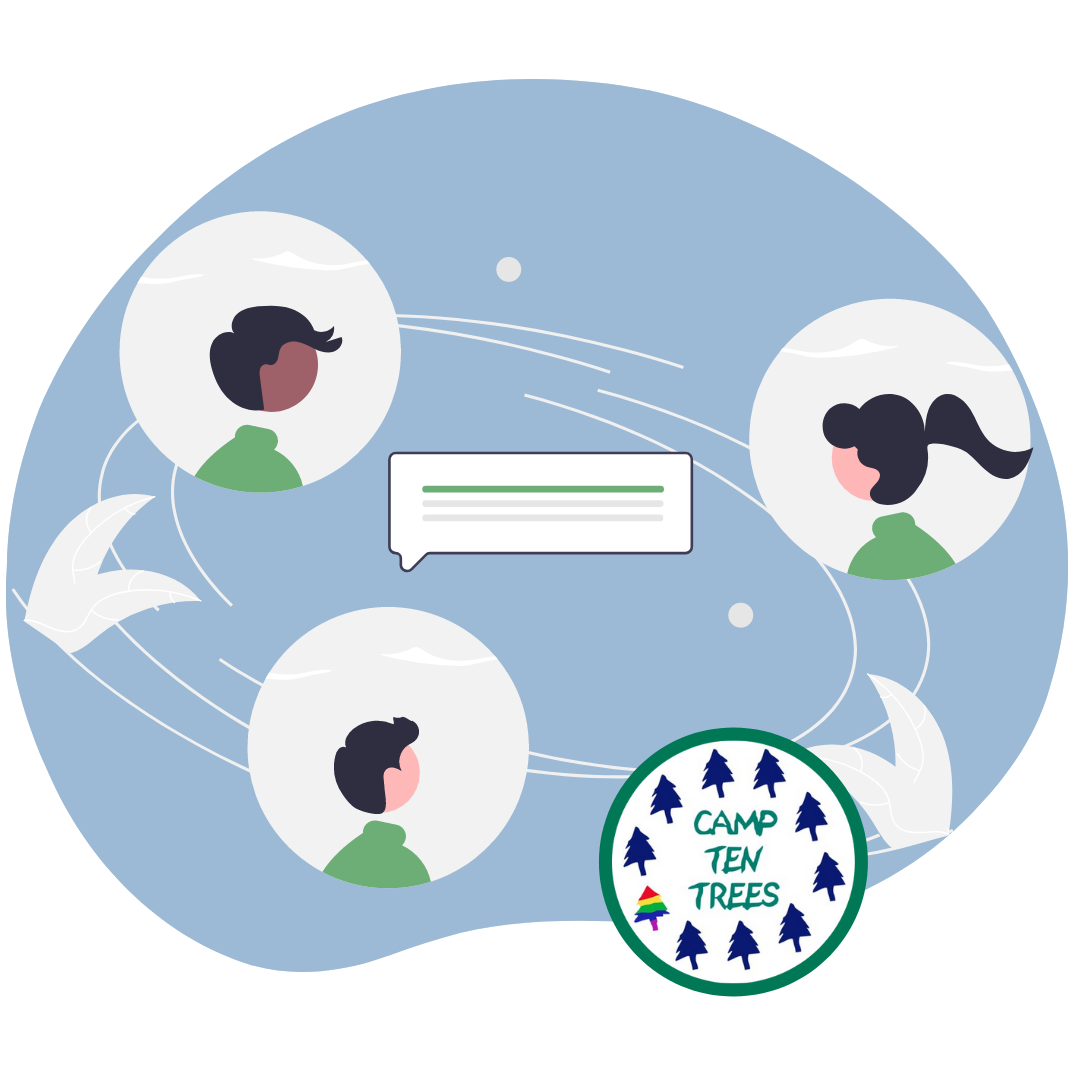 College peer mentorships
Virtual Camp 2022
Camp Dates: August 1- August 26, 2022
Camp Ten Trees is excited to announce our virtual summer camp for 2022! Camp will take place over the first four weeks of August and will happen Monday-Friday with about 4 hours of programming each day.
What will virtual camp look like?
The exact details of the schedule are still being put together, but you can count on spending time consistently with a cabin of people, exciting evening programs, fun free choice activities, thoughtful workshops, affinity groups, and most importantly community chill time where you can just meet others, vibe, and have a great time. Below are some examples of the types of items you might find on the camp schedule.
Free Choice Activities
Campers can explore fun activities that you might traditionally see at summer camp - but modified for virtual camp. Some examples might include: Arts and Crafts, Friendship Bracelets, and Gaming. Each camper will receive a care package of goodies and activities before the start of camp to make sure that they have the supplies to participate in as many of these free choices as possible.
Affinity Groups
These groups will be led by counselors of a given queer affinity. They are a great way to for campers to find other campers who share an affinity (e.g. lesbian, trans-masc, aromantic, gender expansive, etc.) and discuss what it means to be part of that affinity group.
Cabin Time
Campers will be led through activities by their cabin counselor(s) and will meet consistently with similar aged peers. This is a great opportunity to form close relationships with a core group of youth.
Evening Programs
Just like evening camps at in-person summer camp, we want all campers to get together to have fun and celebrate as a group. Examples of evening programs could include a variety show, a poetry slam, or even a dance party!
Frequently Asked Questions
Interested in volunteering?
We are currently seeking volunteers for the 2022 Virtual Camp. Volunteers will help facilitate activities, workshops, affinity groups, small group conversations, and more through our virtual format.